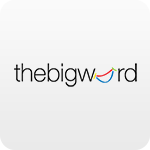 thebigword Translation Services
Contact a Brother authorized reseller for pricing.
Secure and cost-effective translation services in 90+ languages directly from a Brother device.
Benefits
Secure translation services with advanced file encryption to protect content throughout every stage of the translation process. Available in enterprise, crowd sourced, and machine-level offerings.

Machine translation included at no charge for Brother customers.

ISO 27001-compliant for any information security management system.
Use Case
Ideal for environments that require translations for contracts, reports, communications, content localization, and more.

Vertical applications include retail, education, corporate, healthcare, and government.
Enterprise and crowd sourced offerings require additional purchase.
This solution works with: