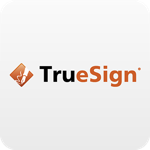 TrueSign
Contact a Brother authorized reseller for pricing.
A legally recognized electronic signing platform that enables both registered users and external parties to seamlessly create, sign, share, and submit documents from a single dashboard.
Benefits
Users can scan hardcopy documents from Brother devices supporting Easy Scan to Email directly into TrueSign where they're ready to be securely sent and / or signed. Documents include business agreements, HR, legal or insurance forms, applications, and more.
TrueSign is developed as a Cloud application that integrates directly into an organization's business process. Certified, compliant, and time stamped, TrueSign eSignatures leave zero end-user footprint, allowing for users to electronically manage signing needs with confidence. This scan-to-sign functionality can also be applied 24/7 from any location via text, email, or QR code.
Use Case
Environments requiring real-time and secure electronic or digital signatures for contracts, agreements, HR documents, court orders, and more.
All trademarks are the property of their respective owners – TrueSign is not endorsed by or affiliated with any trademark owner referenced here. Purchase required.
This solution works with: