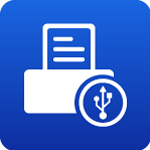 USB Direct Print
Print directly from a USB flash drive.
Benefits
Print documents from a USB flash drive (requires additional purchase) using the machine's control panel, without the need for a computer or driver.

Supports PDF (up to ver. 1.7), JPEG, and XPS files. Secure PDF files supported for documents scanned on a Brother device.
Use Case
Environments where visitors need to print multiple copies of the same documents without connecting a PC.
This solution works with: