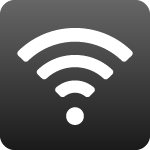 Wi-Fi Direct®
Allows a user to configure a wireless network between a Brother machine and a mobile device that supports Wi-Fi Direct®.
Benefits
Connect the printer to the computer or mobile device directly without Wi-Fi access point/router.

The Brother device serves as an isolated one-to-one Wi-Fi connection.
Use Case
Environments requiring devices to establish ad-hoc network connections as and when required.
Wi-Fi Direct is a certification mark of Wi-Fi Alliance®.
This solution works with: