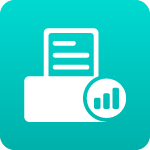 Print Cost Predictive Analysis
MSRP: $249.99 | SKU: BRPCPA
Print Cost Predictive Analysis creates a simple snapshot of the print environment to generate a Total Cost of Ownership (TCO) report.
Benefits
Print Cost Predictive Analysis offers a Total Cost of Ownership (TCO) report that includes information provided by the organization on printer, MFP, and scanner makes/models, including print volume for printers and MFPs.

The Brother Special Solutions Team (SST) and the Brother Consulting Services Team work with the organization using industry standards and provide a business case for change, or facilitate a full end-to-end assessment.
Use Case
Create a print project cost analysis estimate based on use points.

Start by identifying and categorizing all the needs and pain points, aging printer fleet, underutilized or overutilized print devices, and the need for balanced print deployment to be supported.