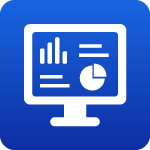 Brother PrintFleet Server (Brother Dashboard)
The Brother Dashboard is a value added managed print service solution with advanced reporting capabilities.
Benefits
Offers expanded visibility and insight into end user print environments from one seamless user interface.

Leveraging a combination of automatic device data collected by PrintFleet's Data Collection Agent (DCA) and custom TCO values, this tool can visually show how managed print services can help increase efficiencies, reduce costs, and improve device management.
Use Case
Ideal for managed print providers looking to grow existing accounts
and acquire new business.
Requires additional purchase based on the number of devices being monitored.
This solution works with: