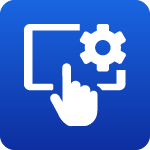 Custom User Interface
MSRP: $79.99 | SKU: BRCUI
Modify the standard user interface on select Brother products.
Benefits
The User Interface can be customized with different backgrounds, icons, and available machine features.

Examples include:
Place a company logo in the background of the display
Customize business workflows to allow access to specific device functions, while hiding others
Custom User Interface can also be used as part of a security policy. Icons can be removed from the User Interface which eliminates access to a particular feature. Predefined icons also reduce the risk of documents accidentally being sent to the wrong destination.
Use Case
Virtually any business environment that is looking to streamline workflows, put a security policy in place, or promote a corporate logo or image on the machine.
Custom User Interface solution requires minimum purchase of ten printer/scanner units and purchase of professional services for development.
This solution works with: