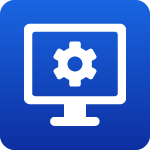 Remote Panel
MSRP: $49.99 | SKU: BRRP
Enables remote operation of the control panel for a network-connected device and configuration of machine settings using a web browser.
Benefits
Remote Panel is a Brother value added solution that can help with increasing efficacy and reducing support cost by enabling remote access to the control panel for troubleshooting, feature training, or user assistance.

Accessed by logging into a network-connected machine's Embedded Web Server (EWS) and selecting Remote Panel. A user can operate all of the front panel selections as if they were at the machine.
Use Case
Ideal for help desk or user training.
This solution works with: