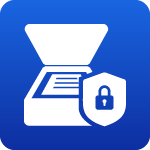 SMBv3 (Scanning)
Server Message Block (SMB) is a protocol connecting Windows clients and servers so they can share files and printers.
Benefits
Secure shared access to scanned files.

An SMBv3 file share configured with SMB Encryption removes the need for a more complex IPSec configuration.

The Brother embedded SMBv3 client supports:
SMB Encryption (AES-CCM)
Signing (AES-CMAC)
Use Case
Environments requiring end-to-end secure transmission of scanned data across untrusted networks.
Supported File Formats
JPEG, TIFF, PDF (Multi & Single page formats), PDF/A, Secure PDF, Signed PDF, XPS.
All trademarks and registered trademarks referenced herein are the property of their respective companies.
This solution works with: