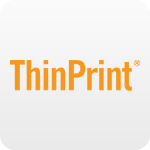 ThinPrint Client
MSRP: $99.99 | SKU: BRTPC
ThinPrint Client enables efficient print workflow from a virtual desktop environment by compressing print data.
Benefits
ThinPrint offers efficient print job transmission by compressing the print job at the server. Compression helps control bandwidth for printing and application working speed, regardless of the number of people using an application.

The loading of one common driver on the server of the ThinPrint engine eliminates the requirement for an IT admin to install individual drivers to all of the PCs on the network.
Use Case
Virtual desktop environments that require compressed print data streams to increase efficiency and reduce network traffic.
ThinPrint is a registered trademark of ThinPrint.
This solution works with: