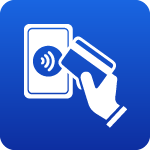 Third-Party HID Reader Support
Control access to a Brother device with card authentication via an external card reader.
Benefits
Badge authentication streamlines the network user authentication process.

Many Brother models support optional external HID card readers that can be used to integrate into an existing HID Card Authentication environment or strengthen a new security policy.

External Card Readers require optional third-party middleware applications to integrate into a security schema.

CH-2000 card reader holder available as an optional Brother accessory.
Use Case
Environments requiring user authentication and managed print policies.
This solution works with: