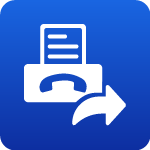 Fax Forward
Resources
Automatically forward incoming faxes to another fax machine or email address*.
Benefits
Foreword incoming fax documents to a defined fax number or email address.

This solution enables a user to share received documents with other users via fax, or view received fax documents from virtually anywhere via email, while helping to reduce paper waste.
Use Case
Environments that require an improved workflow for receiving faxes and forwarding to another fax destination or email address.
* Requires POP3/SMTP or IMAP mail server support for forward to email.
This solution works with: