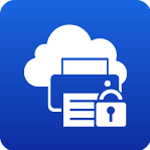 Cloud Secure Print
Enables password-protected printing over the Internet* without using a printer driver.
Benefits
Convenient built-in feature within Brother Apps that provides secure printing to remote printers without requiring the user to connect to a corporate network.

Documents can be uploaded to a web browser or sent via email, and retrieved for printing after a password for the print job is entered at the destination machine.
Use Case
Environments requiring secure printing over the Internet.
* Requires Internet connection.

All trademarks and registered trademarks referenced herein are the property of their respective companies.
This solution works with: