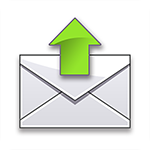 Easy Scan to Email
Send documents to an email address from a Brother device* without the need to configure an email server or use a computer.
Benefits
Convenient built-in feature within Brother Apps, Easy Scan to Email enables a user to send documents to a prepopulated email address without configuring any server details. Simply store the recipient's email address and Brother takes care of all of the email services.

Create a custom address book with up to 10 addresses and then select a recipient or create groups at the push of a button.
Use Case
Environments that require a simplified workflow of scanning to a preconfigured email address and do not have email server support.
Supported File Formats
JPEG, TIFF, PDF (multi and single page formats), High Compression PDF, PDF/A, Searchable PDF, Signed PDF, Secure PDF, Microsoft Office Word (*.docx), Microsoft Office PowerPoint (*.pptx), Microsoft Office Excel (*.xlsx), XPS.
All trademarks and registered trademarks referenced herein are the property of their respective companies.
* Requires Internet connection.
This solution works with: