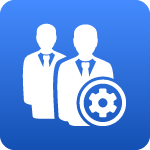 Special Solutions Team (SST)
MSRP: $149.99 / Hour | SKU: BRPROSERV
The Brother Special Solutions Team (SST) assesses a business' unique needs and develops customized solutions to meet those needs.
Benefits
The SST team will work to design, test, and deliver an out-of-box solution that meets unique business needs.

Examples of SST solutions include:
Automating device deployment, including configuring advanced feature settings, capture device information, and disabling features/interfaces
Developing a Custom User Interface and preconfiguring shortcuts
Use Case
Environments that have specific configuration/deployment requirements and document management needs.

Applicable to all verticals and industries.
This solution works with: