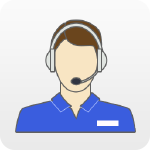 E-notify
MSRP: $99.99 | SKU: BRNEN
Enables email notifications to be set up so that requests for support on a Brother device and supply orders are sent right from the machine.
Benefits
Users can access the service button on the machine's control panel to request service for the device or to place an order for Brother Genuine replacement supplies. The machine sends an email to the configured destination.

Allows service requests and supply orders without needing to add a Data Collection Agent (DCA).
Use Case
Ideal for environments that want to control when service is requested or supplies are ordered.
This solution works with: