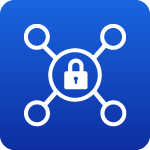 IEEE 802.1X
IEEE 802.1X defines an access control and authentication protocol that restricts unauthorized users from connecting to a LAN/WLAN through publicly-accessible ports.
Benefits
Accept or reject device access to a network using 802.1x.

Devices are secured on a network running enterprise authentication EAP-TLS with a security certificate from a RADIUS server.
Use Case
Support for networks running 802.1X Enterprise security. Helps conform to security policies and standards such as PCI.
This solution works with: