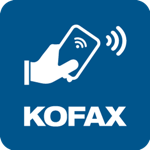 Kofax Micro Card Reader
Contact a Brother authorized reseller for pricing.
Control access to a Brother device with card authentication via an external card reader.
Benefits
The Kofax Micro Card Reader offers seamless integration with Brother print devices and features best-in-class modular design, as well as global certification.
The Reader supports nearly all proximity and contactless technologies, including popular card types. The end result is a more streamlined and efficient process, increased security authentication, and simplified installation and deployment.
Benefits include:
Simple install and deployment with the new Kofax Reader Maintainer tool.
Increased flexibility with a compact design to use externally for print authentication.
Cost-effective solution for providing Follow-You Printing, Pull Print, and Secure Document Release functionality.
Increased security that can be leveraged with existing Kofax solutions to provide dual factor authentication (card + PIN) at existing devices.
Global certification for easier deployment.
Card reader options include the Multi-Card, iClass + Legic, and iClass Seos + Multi-Card.
Use Case
Environments requiring user authentication and managed print policies.
Requires additional purchase.
This solution works with: