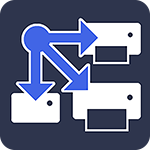 Mass Deployment Tool
Provides a configuration interface to help manage and deploy device settings.
Benefits
Windows-based application that can apply multiple settings files to multiple MFPs and printers. A user can export settings data from a device, allowing the ability to edit settings that require changes using another tool. The edited settings files can then be sent to multiple devices, helping to save time and reduce manual mistakes.
When a user wants to activate Brother value added solutions, mass-activation is also available. Administrators can mass deploy device settings in JSON/XML format.
Use Case
Environments that require unattended deployment of all machine configuration settings to local or networked Brother devices.
This solution works with: