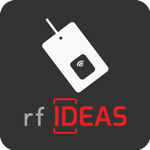 rf IDEAS Card Reader
Contact a Brother authorized reseller for pricing.
Resources
Control access to a Brother device with card authentication via an external card reader.
Benefits
The WAVE ID® Plus is a dual-frequency card reader that combines proximity and contactless technologies. Four ID card configurations enable growing organizations to seamlessly integrate different ID card technologies.
The WAVE ID® SP Plus (dual frequency) and WAVE ID® SP (single frequency) are slim card readers with a thin form factor that enable integration in recessed compartments as well as external mounting configurations.
These readers are designed for customers who want to leverage their existing card systems for applications beyond building access including secure printing and copying, and more.
Credential-based reader solutions eliminate the need to manually enter user names and passwords, helping to streamline workflow and eliminate identification errors.
Use Case
Environments requiring user authentication and managed print policies.
Requires additional purchase.
This solution works with: