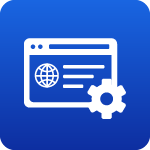 Embedded Web Server (EWS)
An Embedded Web Server (EWS) enables machine configuration and management via a web browser.
Benefits
Provides administrators secure, authenticated access to manage network machines via a machine's built-in web server. An administrator can easily change settings and configure device status alerts.

Examples:
View machine status
Change network settings, including TCP/IP information
Change advanced settings for both machine and server
Check the machine and server software versions
Set machine location information
Obtain machine reports, notifications, and page count information
Use Case
Ideal for organizations that do not have a dedicated IT administrator.
This solution works with: