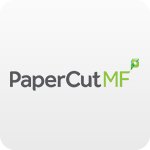 PaperCut MF
Contact a Brother authorized reseller for pricing.
Enables tracking, charging, and billing of copying, printing, and faxing.
Benefits
Monitor and control copying and printing. Enable quotas, charging, and cost allocations. Bill and account by user, department, cost-center, and project.

Allows for complete and effective control of the printing environment, including:
Security
Rules Based Printing
Optimization
Job Accounting
Sharing Documents
Mobile Printing
Integrated solution with a Brother device, with no external release stations required.

Can be used with the built-in NFC card reader for user authentication, saving the cost of an external third-party reader. Brother models can also support external readers via a USB host interface.
Use Case
Environments requiring print accounting, print control, and/or secure release. Includes legal, financial services, and education.
Requires additional purchase.
This solution works with: