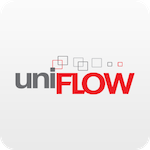 uniFLOW
Contact a Brother authorized reseller for pricing.
Enables device locking, secure print job release, and print and copy accounting.
Benefits
The uniFLOW Universal Driver allows users to choose any network printer from which to release a job. Print jobs will follow the user from device to device, ensuring the correct requested output, improving the printing process, and helping save costs by cutting waste.

Release to any device with all print jobs stored in a user's personal queue until they are ready to be released at the printer of choice. Secure print jobs are automatically deleted after a predetermined time if not collected from the Brother device.

An entire device fleet can be managed with established printing rules that will help optimize printing within the organization. Organizations can assign costs to a multi-level center, allowing chargeback to the appropriate customer or project code.
Use Case
Environments requiring increased document security, improved employee productivity, and cost control.
Requires additional purchase.
This solution works with: