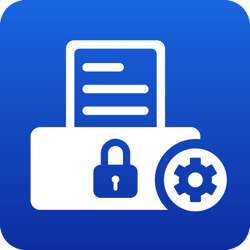 Secure Print Advanced
MSRP: $149.99 | SKU: BRSPA
Ensures that confidential or sensitive documents do not print until the user authenticates by entering a PIN or via an NFC card on the machine's integrated NFC card reader.
Benefits
This job release solution offers security for print jobs without the high cost of IT services, middleware, or infrastructure overhead typically required for this type of solution. Retrieve printed documents on any network connected Brother printer with the Secure Print Advanced solution activated. This is a pull print feature where print jobs are held on a shared network folder, allowing for immediate access and enhancing security. Print with confidence that documents have not been read or copied by anyone else, while also meeting document handling guidelines and regulations.
This solution works with Secure Function Lock, which makes it easy to manage adding and removing users in a few simple steps, including setting associated NFC card identification. Users can be set up with a profile that includes access to the machine's functions.
Help reduce printing costs and become more environmentally aware by automatically deleting documents that are not retrieved or printed.
Use Case
Environments that need to ensure the security of printed data on a network connected Brother device, but do not have a sophisticated server network or expensive print management middleware.
All trademarks and registered trademarks referenced herein are the property of their respective companies.
This solution works with: